Skip to Content
Fitness for a Busy Schedule: Benefits of High-Intensity Interval Workouts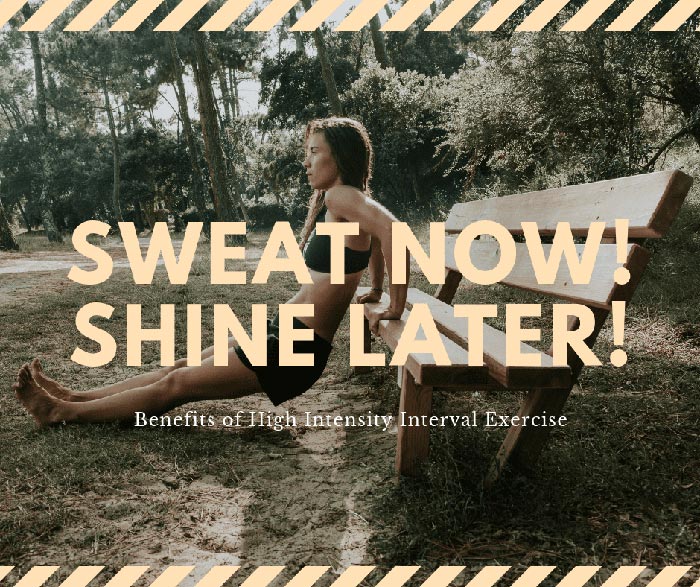 What Is High-Intensity Interval Training?
This type of exercise alternates intense bursts of aerobic exercise (1-3 minutes) with periods of active recovery. This allows for more calories burned and push heart rate more than steady rate exercise regimes. Overall aerobic capacity to increase at a faster rate. The best part, these exercise regimes are short! Maybe 10-15 minutes. So busy people and families can incorporate these routines as time allows during the day.
What Are the Benefits?
Improves blood vessel function and could lower blood pressure
Reverses muscle degeneration due to age by increasing mitochondrial function and protein levels
Elevate mood and enjoyment
Burn more fat and calories
Increase metabolism
High Interval Exercise Regime Ideas
Choose a handful of this exercise and do one for 45 seconds, then rest for 15 seconds by walking and breathing. Repeat with 3-4 more exercises. As endurance allows, add more exercises until you are up to a 10-20 minute workout regime.
Butt kicks
Jump squats
Burpees
Mountain Climbers
Side Lunges (alternating)
Jumping Lunges
Forearm Plank (20 seconds)
Plank Jacks
Lateral Plank Walks
You can be creative in creating a routine that works for you with exercises you enjoy! Try to keep variety in your routines to work out more than one or two muscle groups.