Skip to Content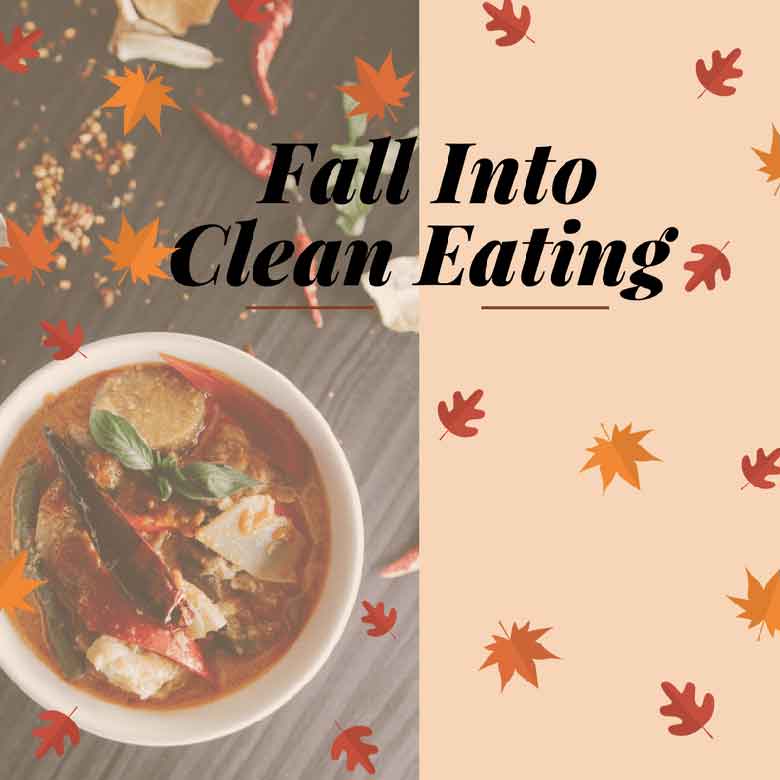 Fall is in the air! The crisp morning air and chilly weather are fast approaching and with most seasons, people tend to lean towards a positive change. If you are looking for a way to improve this fall, consider making a few changes to your diet to eat cleaner and healthier. Your body will thank you!
Focus on Whole Foods.Eat whole versions of foods instead of processed forms (juice, sauces, powders, chips, cereals, etc.)
Reduce Sugar Intake and Added Sugars.Reducing processed foods is a great step, but if that is a struggle, try to avoid added sugars. Do your research as these sugars come in many forms! Try making your own sweet treats with healthier sugar substitutes such as stevia, maple syrup, or xylitol.
Stay Hydrated!Keeping up on your water intake will help your body flush out any toxins you may have as well as improve digestion, mood, and overall health.
Focus on Nutrients rather than Calories.Ensure your meals are high in nutrient count rather than counting calories. Fresh and whole foods will provide the most nutrients and leave you with stable blood sugar and energy.
Limit toxin exposure.This means buying organic produce, meats, and eggs whenever feasible. Research the dirty dozen and clean fifteen for 2017 in order to learn which fruits and vegetables have the highest toxin load; try to buy these foods organic at all times.
Start Reducing Processed Foods.Where possible, reduce processed and refined foods. This includes pastas, breads, sugars, chips, etc. Yes even gluten free! Focus on whole foods as much as possible for maximum nutrient intake.
Completely avoid preservatives, color additives, and toxic binders, stabilizers, emulsifiers and fat replacers.
Need a quick and easy fall inspired recipe to start you off on clean eating? Try this!
Roasted Chicken Butternut Squash Soup
INGREDIENTS:
2 garlic cloves, minced
2 carrots, peeled and cubed
1 cup butternut squash, peeled and cubed
1 small sweet potato, peeled and cubed
½ yellow onion, quartered
2 tablespoons extra virgin olive oil
4 cups chicken stock, store-bought or homemade
2-3 cups leftover shredded chicken or 1 pound uncooked chicken breasts
¾ teaspoon dried parsley
1 teaspoon sea salt
½ teaspoon dried thyme
½ teaspoon dried rosemary
¼ teaspoon dried oregano
¼ teaspoon cracked pepper
1 cup water
2 cups baby spinach
INSTRUCTIONS:
Preheat oven to 425 degrees F.
Toss the vegetables in the olive oil and sprinkle with salt and pepper. Roast for 20 minutes, until the vegetables are tender.
Meanwhile, bring the chicken stock to a simmer in a large stockpot. Add the chicken, herbs, and salt and pepper. Cover and cook while the vegetables are roasting, about 15 minutes. For raw chicken breasts, cook for about 45 minutes, until chicken is cooked through and tender enough to shred with a fork.
Add half the vegetables to the soup, and place the other half in a blender. Make sure to put all of the onions quarters into the blender. Puree the vegetables with the 1 cup of water.
Add the vegetable puree and baby spinach to the soup. Simmer for 5-10 minutes, until the spinach is wilted and the soup is hot.
Adjust seasonings to your taste.