Skip to Content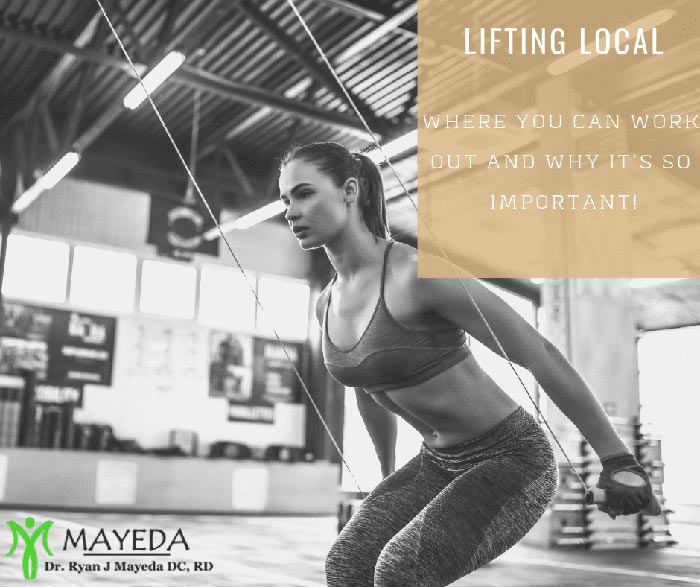 They say too much of a good thing can be bad, but when it comes to things like exercise and fitness there is rarely such a thing as "too much." According to recent studies, less than 24% of adults aged 18-64 meet the American College of Sports Medicine's (ACSM) recommended weekly amount of physical activity (1,2). The ACSM recommends that all adults aged 18-65 partake in a minimum of 150 minutes of light to moderate-intensity or 60 minutes of vigorous-intensity physical activity each week (3). As an example, light to moderate activities could be things such as walking or mowing the lawn, and vigorous activities include things such as swimming and shoveling snow. They also recommend at least two days of activities that maintain or increase muscular strength and endurance per week, such as lifting weights or doing calisthenics.
Studies over the years have shown that regular physical activity not only provides many health benefits like increased circulation, decreased blood pressure, and weight loss, but it can also decrease the instance of chronic diseases such as osteoporosis, heart disease, and type 2 diabetes, as well as some forms of cancer and mental illness. In fact, experts even suggest that regular physical activity decreases your chances of death in general up to 30% (4). Even with this knowledge, there is still more than 76% of the population that does not meet these recommendations. Why is that?
For many people, the reason is that they just don't have enough time on a given day to go out and exercise. Luckily, we have a solution for that! Check out our recent post about HIIT training to learn how to fit some exercise into your busy schedule.
For others, it's that they don't know how to properly exercise. It is a common fear for many people that they might injure themselves while exercising, especially in the case of resistance training. If you want to start becoming more active but just don't know where to start, ask Dr. Ryan about his summer intern! Dr. Ryan's intern Matt is a Kinesiology major and has experience in exercise prescription and personal training.
Finally, some people just don't know where to go. It's easy (and encouraged!) to take a nice bike ride through the park, go out for a run on a winding trail, or swim at the local lake or pool during the summer to get your cardio in for the day, but what about that strength training that the ACSM was talking about? Calisthenic exercises like push-ups, pull-ups, and body-weight squats are all great and free ways to get your resistance training in for the day. You can also purchase portable equipment like dumbbells or exercise bands to expand the exercises that you are able to do and maybe even get a start on your home gym! But if a home gym isn't in the cards for you, then check out one of these places to fulfill your resistance training needs:
VASA Fitness: With a pool, sauna, basketball court, group fitness classes, personal training, KidCare facilities, and more, VASA is an affordable gym with a little bit of something for everyone!
Planet Fitness: Planet Fitness is a chain of 24/7 access gyms with affordable membership plans that pride themselves on their "no gymtimidation" policy. Whether you're new to fitness or a fitness veteran, Planet Fitness welcomes you to their Judgement Free zone!
Anytime Fitness: Greeley's Anytime Fitness is offering free membership for the first 2 weeks of everyone's membership through July 31st. This gym is family-owned and includes all kinds of cardio equipment, free weights and machines, and personal training.
iLoveKickboxing: If treadmills and weights aren't your styles, try checking out iLoveKickboxing! Through bag work and partner drills, this gym utilizes HIIT training in the form of kickboxing as a fun way to help people reach their fitness goals. They even include a free pair of boxing gloves when you sign up!
Workout West Health and Recreation Center: Have you ever thought about taking up tennis? Workout West has both indoor and outdoor courts for you to practice on and offers programs for children and college-bound athletes. They also offer group classes and personal training!
NoCo Fitness: This gym prides itself on its close relationships with its members. They offer personal training both in-person and online for those who live a busier lifestyle, and they offer discounts for couples, students, and SilverSneakers members.
Team Tom: Owned by veterans, this gym offers free memberships for active military personnel and sworn-in badged officers. They offer a full supplement and apparel store as well!
CrossFit Helix: Have you heard of the phenomenon that has been sweeping across the country these past few years, CrossFit? CrossFit is a great way to get in shape with functional exercises and Olympic-based lifts. For a monthly fee, this gym gives you access to their open gym and barbell club. *Prior CrossFit experience or completion of On-Ramp training are required for membership.
CrossFit Battle-ready: Located in Evans, this CrossFit gym offers numerous discounts for students, couples, government employees, active military personnel, and police officers! They also offer drop-in rates and punch card options, as well as free membership for Purple Heart recipients.
Double Diamond CrossFit: Another CrossFit gym, Double Diamond offers weekly and monthly membership options, as well as discounts for couples and students! They also require previous experience and offer Saturday classes for those new to CrossFit.
Performance and Wellness Institute Health: This gym has highly qualified staff and includes a comprehensive orthopedic evaluation before developing your personalized program.
TR Fitness: Located right next to our office, this 24/7 gym offers personal training and versatile fitness programs for athletes and lifestyle clients alike!
Make sure to check out the websites for these gyms if you're interested or would like more information and drop a comment below if you recommend one of the gyms we mentioned!
American College of Sports Medicine, et al. ACSM's Guidelines for Exercise Testing and Prescription. Tenth edition. Philadelphia: Wolters Kluwer, 2018.