Skip to Content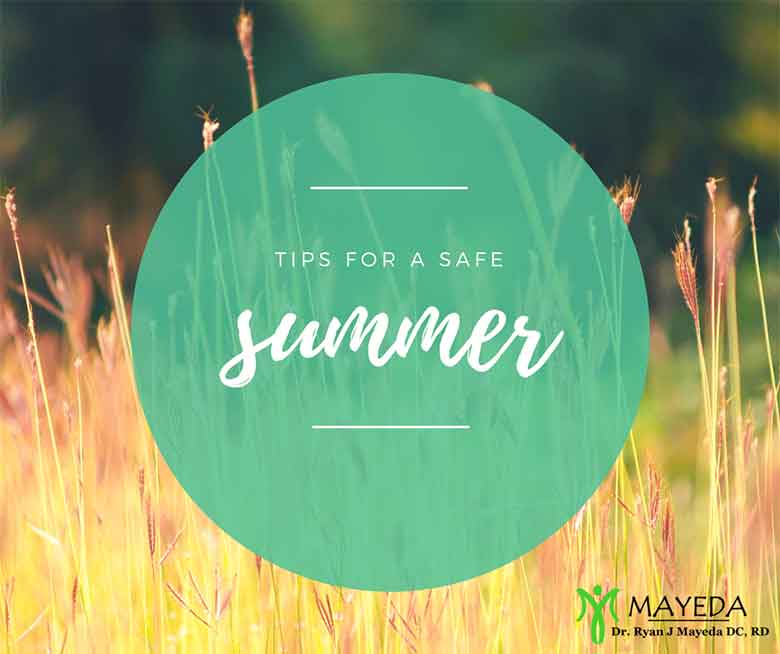 Summer is the time of year that we get outside, enjoy the sunshine, and get active! Summer brings a host of concerns from sunburns to dehydration. Here are some tips to stay safe and healthy this summer.
Stay Hydrated!
Hydration is extremely important during the summer months. Especially if you find yourself outside and in the sun. The risk of dehydration is much higher in the summer. Here are some tips to stay hydrated and encourage kids to drink, drink, drink!
Always carry a water bottle for yourself and each child with you.
Drink before you become thirsty to avoid losing too much salt and electrolytes.
Flavor water to encourage drinking. Some of our favorite infused water flavors are berry basil, apple cinnamon, lemon ginger, and strawberry jalapeno.
If you find yourself overheated or dehydrated, resort to a cool environment and take a cool bath or jump into the lake or ocean.
Eat Fresh & Raw!
Fresh fruits and vegetables are some of the best sources of antioxidants that protect your skin from sun damage, slow down the aging process, and protect you from diseases such as cancer. Try to eat at least five servings of fresh vegetables and fruit per day. Aim for consuming them raw for maximum nutrition, higher antioxidant levels, and higher probiotic levels.
Protect Yourself From the Sun!
Vitamin D is produced in the body in response to sun exposure. This is the best source of vitamin D so we encourage people to expose themselves to direct sunlight for about 10-15 minutes a day. After soaking up the sun, lather on the sunscreen to protect from sun damage! Many commercial sunscreens contain toxic chemicals and hormone disrupters that may cause more harm than good. Try to use natural, zinc-oxide-based sunscreens to protect your body all around. Remember to reapply sunscreen after 2-3 hours in the sun and every time you get in the water. In addition to sunscreen, be sure to wear a hat to protect your head and sunglasses to protect your eyes. If you do end up getting a sunburn, try aloe vera gel or lavender essential oil on the affected area to soothe the pain.
Repel those Bugs!
Bug spray is the typical go-to for insect repellent. Bug sprays containing Deet, Cyfluthrin, Permethrin, Pyrethroids have been shown to be neurotoxins and endocrine disrupters. These chemicals also cross the blood-brain barrier so they will affect unborn babies. While it is understandable that there will be times these intense bug sprays may be necessary, try to limit the amount you use and how often you need to use them. Lemon Eucalyptus oil and citronella have been shown to be effective against mosquitos including those carrying the Zika virus. This is a great natural alternative to commercial bug sprays. Dr. Axe* has a great recipe for homemade bug spray as well:
½ cup witch hazel
½ cup apple cider vinegar
40 drops essential oils (eucalyptus, lemongrass, citronella, tea tree, or rosemary)
one 8 ounce glass spray bottle
Have Fun!
Take time to enjoy the summer. Go to the pool, relax lakeside, take up fishing or hiking, and give camping a shot! There are many local events from festivals to movie nights in the park. Check out the town's calendar of events and have a great summer!